Top 10
movies that inspire
you to travel

rankings you can trust
Top 10 rankings
Movies
that inspire
travel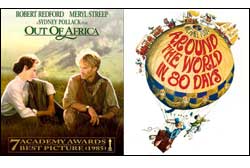 =========================

Around the World in 80 Days
1956 and 2004.

Global.

Out of Africa
1985.

Kenya.

Under the Tuscan Sun.
2003.

Italy.

Motorcycle Diaries
2004.

South America.

Eat, Pray, Love
2010.

Italy, India, Indonesia.

Zorba the Greek
1964.

Greece.

Darjeeling Limited
2007.

India.

Sheltering Sky
1990.

Morocco.

Before Sunrise
1995.

Austria.

Roman Holiday
1953.

Italy.
Selection criteria for my
Top 10 Travel Movies list

To maintain a tight focus...
Film nominees for my Top 10 Movies with Travel list must:

Be a successful major feature movie.

Capture the true character of a place, not its Hollywood-hyped or popularly misconceived image.

Tell a human story, be it fiction or nonfiction. Documentaries such as wildlife and travel guides are not eligible for this particular list.

Have travel-related scenes that are an integral part of the movie's story, not merely a travelogue-style backdrop.

Inspire seasoned, not just armchair travelers.

Contain sufficient film footage shot in the actual country.
See my other Top 10 lists


Man Made Wonders
Natural Wonders

Wonders of Africa
Wonders of Asia
Wonders of Europe
Wonders of North America
Wonders of South America


Bizarre Festivals
Carnivals
Classical Music Festivals
Film Festivals
Rock/Pop/Jazz Festivals

Adventure Travel Books
Art Museums
Best Cities for Travelers
Best Countries for Travelers
Car Race Events
Dive Destinations
Explorers
Houses of Worship
Most Famous Beaches
Most Visited Cities
Most Visited Countries
Movies with Travel
Romantic Islands
Sights in the Sky
Sports Events
Travel Health Mistakes
Travel Photo Mistakes
Travel Photo Selfies
Travel Pre-Trip Mistakes
Travel Safety Mistakes
Travel Songs on Cities
Travel Theft Mistakes
US National Parks
World Cuisines



World's Top 100 Wonders
World's Top 1000 Wonders
Site map
My credentials
About my website and criteria
Reader testimonials