Top 10
"envy me" travel selfies
a touch of humor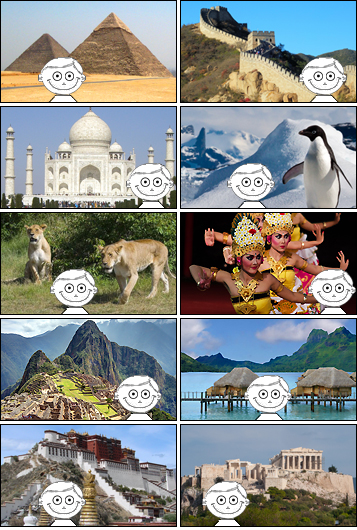 Envy-me travel selfies
Some travelers take selfies then send the photos to us to fuel their ego and make us feel a bit envious. You know who they are.
Top 10 rankings
Criterion: A site's fame and envy impact.

Pyramids of Egypt


Great Wall of China


Taj Mahal


Antarctica


African Safari


Bali


Machu Picchu


Bora Bora


Potala Palace


Acropolis of Athens
Click blue links above to read my individual web pages on these travel destinations.
See my other Top 10 lists


Man Made Wonders
Natural Wonders

Wonders of Africa
Wonders of Asia
Wonders of Europe
Wonders of North America
Wonders of South America


Bizarre Festivals
Carnivals
Classical Music Festivals
Film Festivals
Rock/Pop/Jazz Festivals

Adventure Travel Books
Art Museums
Best Cities for Travelers
Best Countries for Travelers
Car Race Events
Dive Destinations
Explorers
Houses of Worship
Most Famous Beaches
Most Visited Cities
Most Visited Countries
Movies with Travel
Romantic Islands
Sights in the Sky
Sports Events
Travel Health Mistakes
Travel Photo Mistakes
Travel Photo Selfies
Travel Pre-Trip Mistakes
Travel Safety Mistakes
Travel Songs on Cities
Travel Theft Mistakes
US National Parks
World Cuisines


Montage graphic copyrighted Hillman Wonders/HQP. Individual photo credits: Pyramids of Egypt by
Anne Marie Angelo CC BY 2.0; Great Wall by Keith
Roper CC BY 2.0; Acropolis by Tyler Karaszewski
CC BY 2.0; Taj Mahal photo by Vince Huang CC BY 2.0;
Safaari photo by Paul Mannix - CC BY-SA 2.0; Bali photo
by Ben Hollis CC BY 2.0; Bora Bora photo by Makemake
CC BY-SA 2.0; Machu Picchu photo by Brice Tuten
CC BY 2.0; Patala Palce photo by Watchsmart CC BY 2.0



World's Top 100 Wonders
World's Top 1000 Wonders
Site map
My credentials
About my website and criteria
Reader testimonials