Top activities
on a Silver Shadow
Alaska cruise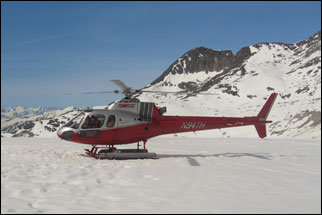 Shore excursions
They are an essential part of an Alaska cruise. Without them, you would miss wonderful experiences.
Dozens of different shore-excursion adventures exist. They include helicoptering to a secluded glacier for dog sledding - and flight-seeing over remote jagged snow-capped mountains - and exploring the native cultures.
Sometimes you can save a little money by booking shore excursions directly from tour operators or their onshore agents. However, by booking shore excursions directly with Silversea Cruises rather than independently, you are assured of getting quality, reliable tour operators - and convenient schedules relative to the ship's in-port hours.
You can book shore excursions at the Silver Shadow's tour desk - or online ahead of time.
For tips, insights and my top 3 shore excursion list, visit the Alaska Cruise shore excursion page.

Sightseeing
from the ship
Enjoy the views of massive mountains and glaciers from the open deck, the Observation Room, and your private balcony. You'll also relish seeing wildlife, including whales and orcas in their natural habitat.

Wining & dining
You have a choice of several dining venues. Click dining for photos and my descriptions.

Onboard
enrichment lectures
Learn interesting insights on Alaska's wildlife, glaciers, gold-rush days, and more. The expert lecturers enrich their presentations with interesting visuals.

Stage productions
Sit back and relax with a drink in the Athenian show lounge while watching musical performances by accomplished singers, pianists, and dance groups. The seating (cushioned banquettes and chairs) is well-spaced and has excellent sightlines.

Dancing
Dance the night away in the Panorama Lounge with the seductive music of the Silver Shadow band.

Gaming
Try your luck at gaming tables and the slots in the Casino.

Cocktails with
newfound friends
Get to know your fellow passengers over drinks in the spiffy The Bar lounge and the petite Lampadina Bar.

Partial list of
other activities
There's bound to be something you'll enjoy. For instance:

Visit the bridge at sea


Explore the galley


Pamper yourself in the spa


Watch movies in the theatre and suite


Swim in the heated outdoor pool


Unwind in a pool deck hot tub


Jog on the outdoor deck track


Exercise in the fitness center


Compete in tournament bridge


Participate in bingo and trivia games


Learn foreign language basics


Shuffleboard, ping pong, hit golf balls


Play Scrabble and other board games


View CNN and FOX news on your TV


Send and receive emails


Join the captain's cocktail party

Learn my other
Silver Shadow tips
Silver Shadow
Why it's special
Top activities
Dining
Dinner menus
Silver Shadow facts
Photos and deck plans
Other public spaces
Suite photo gallery
Crew photo gallery
Deck plans
Click Silversea Cruises for its website.
Learn my
Alaska sruise tips
Itinerary insights
Packing tips
Famous Alaskan foods
Alaska facts and tidbits
Other Alaska cruise topics

Best 4 Alaska cruise ports to visit
Best shore excursions - overview
Helicopter tours - Ranks #1
Floatplane tours - Ranks #2
Best 3 Juneau shore excursions
Best 3 Ketchikan shore excursions
Best 3 Sitka shore excursions
Best 3 Skagway shore excursions
Best glaciers

Denali National Park
Goldstar Dome railroad ride
More pre- and post-cruise options


World Wonders - Top 100 rankings
World Wonders - Top 1000 list
My credentials
About my website and criteria
Reader testimonials
Site map